Description
Standard or Nonstandard: Standard
Sealing Gland: Sealed On Both Sides
Roller Type: Spherical Raceway
Type: Internal Gear
Trademark: Fenghe
Specification: As customed
Feature: Cold-Resistant, Corrosion-Resistant, Heat-Resistant
Rolling-Element Number: Double-Row
Material: 50Mn, 42CrMo
Application: Heavy Hoist,Tower Crane
Package: Plywood Case,Iron Tripod
Origin: Jiangsu, China
About the Slewing Bearing:
Slewing bearing, also called turntable bearing or turntable support, it is a large-scale bearing which can bear considerable axial load, radial load and tilting moment simultaneously. In common, this kind of bearings has install holes, internal or external gear, lubricant holes and sealed device, which allows the host with the advantages of compact structure, reliable guidance and easy maintenance. The slewing bearings are widely application in the marine crane, ocean platform crane, port mobile crane, the ferris wheel, tower crane, construction and coal mining machineries, etc.
Slewing Bearing Type:
1.Single Row Four Point Contact Type:
2.Single-row Crossed Roller Type:
3.Double Row Ball Type:
4.Three Row Roller Type:
5.Ball and Roller Combination Type: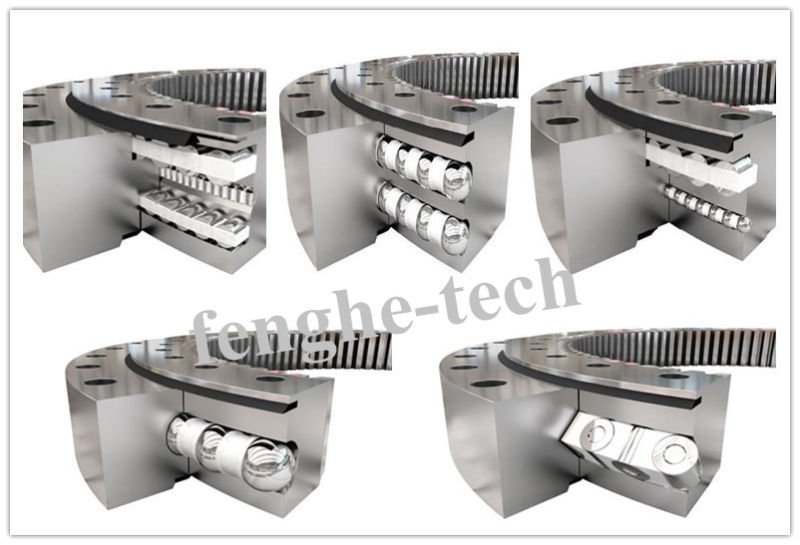 Application:

Our Company:
Fenghe Intelligent Technology Co., Ltd
Fenghe Slewing Bearing Manufacture Co., Ltd is Located in the largest engineer machinery city Xuzhou. Our Company design and manufacture slewing bearings for more than 30 years. Our company covers an area of 38,016 square meters, including 20,000 square meters modernized production workshop and 10,000 square meters forging shop.
Fenghe mainly design and develop six types of slewing bearings including: single-row ball types(01series, Hs series, Q series),double-row ball type(02 series),three-row roller type(13 series),single-row crossed roller type(11 series),double-line ball type(07 series),ball & roller combination type. These slewing bearings widely application in engineering machinery, construction machinery, metallurgy mining machinery, shipping port machinery, environmental machinery, light industrial machinery, petrochemical machinery, engineering vehicles,military devices, etc. The slewing bearing raceway diameter ranges from 150mm to 5000mm, the customization is also available.
Fenghe slewing bearings sale to all over the world and mainly export to the United State, UK, France, Malaysia, Singapore, Germany, Japan, Brazil, Russian, Czech, Finland, Holland, Sweden, Ireland, Turkey, The UAE, Canada, Spanish and other 42 countries, the products are well received and highly praised by the customers.
Manufacturing Process:


Package:


Our Service:
1.Most Competitive Price
We are manufacturer,We sell products direct to customers instead of through middleman.We save evry penny for you.
2.OEM is Available.
If you are in special demands, just send us the design paper or products parameter,we will design and manufacture it for you.
3.Quality Guarantee.
With proffessional team control the produce process,guarantee the high quality.
4. Faster Delivery.
Since we are a factory with large warehouse,we have abundant products in store.
5.After-sale Service timely and effective.
Contact US:
Allen Guo
Sales Manager
Fenghe Intelligent Technology Co.,Ltd
8#,Shengbao Road,The 3rd High-tech Developemnt Zone,Tongshan District,Xuzhou,Jiangsu Province,China. 221116
Email:  allen.guo@xzhzzc.com 
Mob:0086 13780069770
Skype: allenguolove
T:+86 0516 8027 8849 F: +86 0516 8027 8858
Web: www.fhzn-machinery.com        https://fhzn-machinery.com
This is Allen,Thank you for your time and attention.