Description
Roller bearings, also known as rolling-element bearings, they are similar to ball bearings in that they are designed to carry a load while minimizing friction. As opposed to ball bearings, roller bearings have barrel-shaped rolling elements instead of spherical balls. They are capable of supporting heavier loads than similarly sized ball bearings.
Roller bearings come in a wide range of shapes and sizes, and can be customized for specialized situations. Also, the use of flanges, cages, and multiple bearing rows can allow for higher performance to meet specific application needs.
Cylindrical roller slewing bearings, spherical roller slewing bearings, tapered roller slewing bearings and needle roller slewing bearings are the four primary types of roller bearings.
Our company has been engaged in producing and designing slewing bearings and slewing drives for 30 years, we have passed ISO9001:2015 and BSOHASA18001:2007 certifications.
The company specializes in six types slewing bearings, including single-row ball type, double-row ball type, three-row roller type, single-row cross roller type, double-line ball type and ball-roller combined type.
1.Single Row Four Point Contact Ball Type:
2.Single-row Crossed Roller Type:
3.Double Row Ball Type: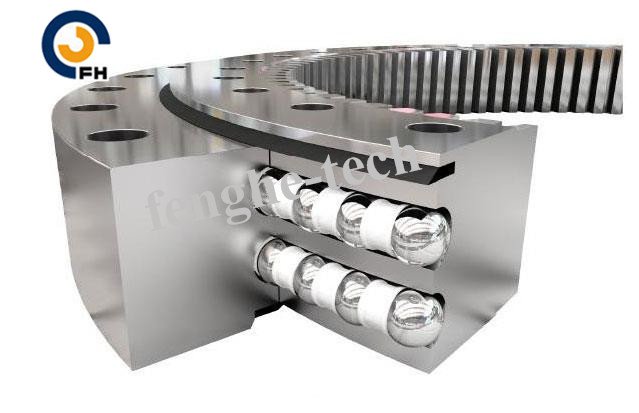 4.Three Row Roller Type: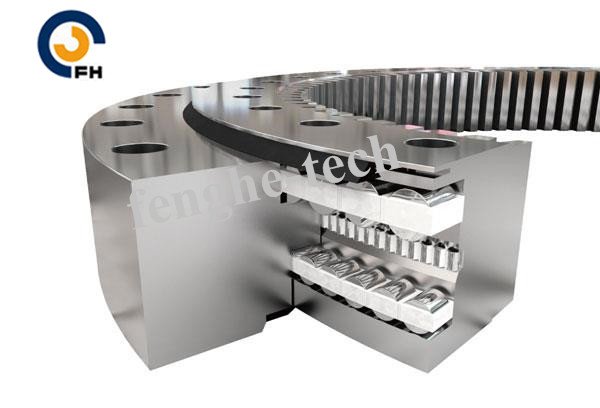 5.Ball and Roller Combination Type:
For slewing drives, there are 9 different sizes available from 3″ to 25″ with more than 60 models to meet both regular and precise tracking of the products covers various standards and nonstandard specifications from 150mm to 5000mm.
Application:

Manufacturing Process:


Package:


Our Service:
1.Most Competitive Price
We are manufacturer,We sell products direct to customers instead of through middleman.We save evry penny for you.
2.OEM is Available.
If you are in special demands, just send us the design paper or products parameter,we will design and manufacture it for you.
3.Quality Guarantee.
With proffessional team control the produce process,guarantee the high quality.
4. Faster Delivery.
Since we are a factory with large warehouse,we have abundant products in store.
5.After-sale Service timely and effective.
The company's products are sold to all parts of our country and are exported to 50 countries all over the world, such as USA, Britain, France, Malaysia, Singapore, Germany, Japan, Brazil, Russia, Czech, Finland, Holland, Sweden, Irish, Turkey, the United Arab Emirates, Canada, Spain, which have won extensive acceptance and recognition from users.
Contact us: Ally Wang
Sales Manager /Sales Department
Xuzhou Fenghe Intelligent Technology Co.,LTD
Add: 8# Shengbao Road, High-tech Development Zone, Xu Zhou City, Jiangsu Province,P.R.China
Mobile/What's APP: 00 86 18994904113
TEL: 0086-0516-80278849
FAX:0086-0516-80278858
Email: ally.wang@xzhzzc.com
allycopper1314@gmail.com